Desktop Computers, DESKTOPS & MONITORS, Gaming PCs, HP
HP Obelisk Gaming Desktop Computer, AMD Ryzen 7 2700 Processor, AMD RADEON RX5700XT 8GB CPU
---
AMD Ryzen 7 2700
16 GB DDR4
256GB SSD+ 2TB HDD
Windows 10 Home 64-bit
AMD RADEON 5700XT 8GB
Virtual Reality Ready
KShs250,000.00

SLEEK. POWERFUL. AND EASY TO UPGRADE.
Get the performance to play at your best with the industry's latest components,
micro–ATX compatible upgradability, and a design that you can personalize.
The 16GB of 2400 MHz DDR4 RAM allows the computer to run multiple applications simultaneously and also to quickly access frequently used files and programs. While the OPTIONAL UPGRADE SSD may not have the larger storage capacity of the 1TB spinning disk, it contains no moving parts, which helps it to be more resistant against bumps, drops, and other kinds of damage. SSDs also receive less wear and tear than traditional hard drives, as there are no read and write heads.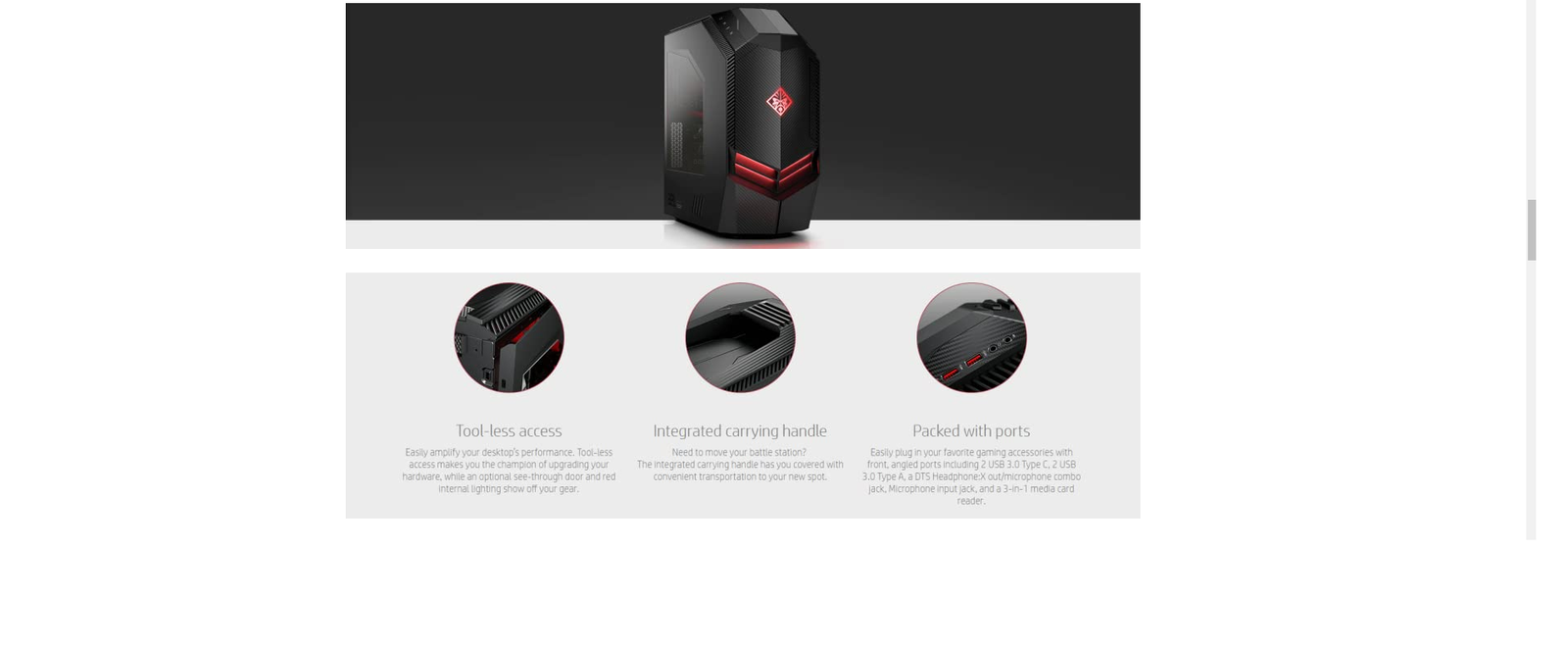 SERIOUS STORAGE
Boot up and load games quickly with a PCIe SSD, and store more with optional dual storage. On select models, 16GB Intel® Optane™ memory for storage acceleration is also available.2
THERMAL ENGINEERING
Stay cool under pressure with extensive venting, optimized power supply placement, and space for an aftermarket liquid cooled radiator.
MAKE IT UNBEATABLE
Get inside quickly and upgrade how you want to with a tool–less design and adherence to micro–ATX standards.
MAKE IT PERSONAL
Stand out from the competition with a sleek chassis, customizable RGB lighting, and optional transparent side panel.
OMEN COMMAND CENTER
Fine–tune and customize your setup with OMEN Command Center software, included on OMEN PCs.
GAME STREAM
Now you can easily play PC games on your big screen TV with OMEN Game Stream–a free remote gaming service that lets you stream from your OMEN PC to other Windows 10 PCs


Model
Brand:HP
Series OMEN
Processor : AMD Ryzen 7 2700
CPU speed: 3.2 GHz (max turbo boost – 4.0 GHz)
CPU cores: 8
CPU Cache (L3): 16 MB
TDP: 65 W
Socket: AM4
Memory : HyperX 16 GB
Amount: 16 GB
Speed: PC4-21300 MB/s
Type: DDR4-2666
Video graphics : AMD RADEON RX 5700XT (8 GB)
Form Factor: ATX (full height) PCB with ATX dual slot bracket
Dimensions: 11.2 cm x 17.3 cm (4.4 x 10.4 in)
Rear I/O connectors: Virtual Link (USB-C) + HDMI + 3 DisplayPort
Maximum resolution:
HDMI resolution: 4096x2160x24 bpp @ 60 Hz (HDMI 2.0)
DisplayPort resolution: 7680×4320 @ 60 Hz YUV 420
Virtual Link (USB-C) resolution: 3840×2160 @ 60 Hz
Memory size: 8 GB (256-bit)
Memory type: DDR4
Total power consumption: 250 W (with USB-C); 215 W (Graphics)
Supports up to four displays at the same time.
Engine clock: 1515 MHz (Base)/1710 MHz (Boost)
Memory clock: 7000 MHz
Cooling: Active fan-sink with 4-pin fan control
External power cable: One 2×3 (6 pin); One 2×4 (8 pin)
DirectX: DX 12
PCIe: PCIex16 Gen 3
Sound/Audio : Integrated audio
Audio Codec: ALC3866-CG
High Definition (Azalia) 5.1 channel audio support
Audio jack presence detection
Networking :
Integrated Bluetooth 4.2 and Wireless LAN 802.11a/b/g/n/ac featuring Dual-band (2.4 GHz and 5.0 GHz) 2 x 2 technology
LAN: 1000BASE-T
Hard drives
256 GB PCIe NVMe TLC M.2 Solid State
HDD Size: 2TB
Interface: SATA
Rotational speed: 7200 rpm
Power supply : Internal PSU 500 W
Total wattage: 500 W
Full range: 115 V/230 V
Efficiency: Bronze
Order this Desktop today and have it delivered to you in same day Nairobi and 1-2 Days within the Country