HP OMEN 880-110 Gaming Desktop Computer
Built with the power to drive competitive gaming, premium entertainment, and intensive multitasking, the OMEN 880-110 Desktop Computer from HP is powered using a 3.2 GHz Intel Core i7-8700 Six-Core processor with 12MB of Intel Smart Cache, providing significant performance gains when running multi-threaded tasks that allow you to run multiple applications simultaneously. If you need more power, the CPU can deliver extra performance by increasing the clock speed up to 4.6 GHz utilizing Intel's Turbo Boost 2.0 technology.
The 16GB of 2400 MHz DDR4 RAM allows the computer to run multiple applications simultaneously and also to quickly access frequently used files and programs. While the OPTIONAL UPGRADE SSD may not have the larger storage capacity of the 1TB spinning disk, it contains no moving parts, which helps it to be more resistant against bumps, drops, and other kinds of damage. SSDs also receive less wear and tear than traditional hard drives, as there are no read and write heads.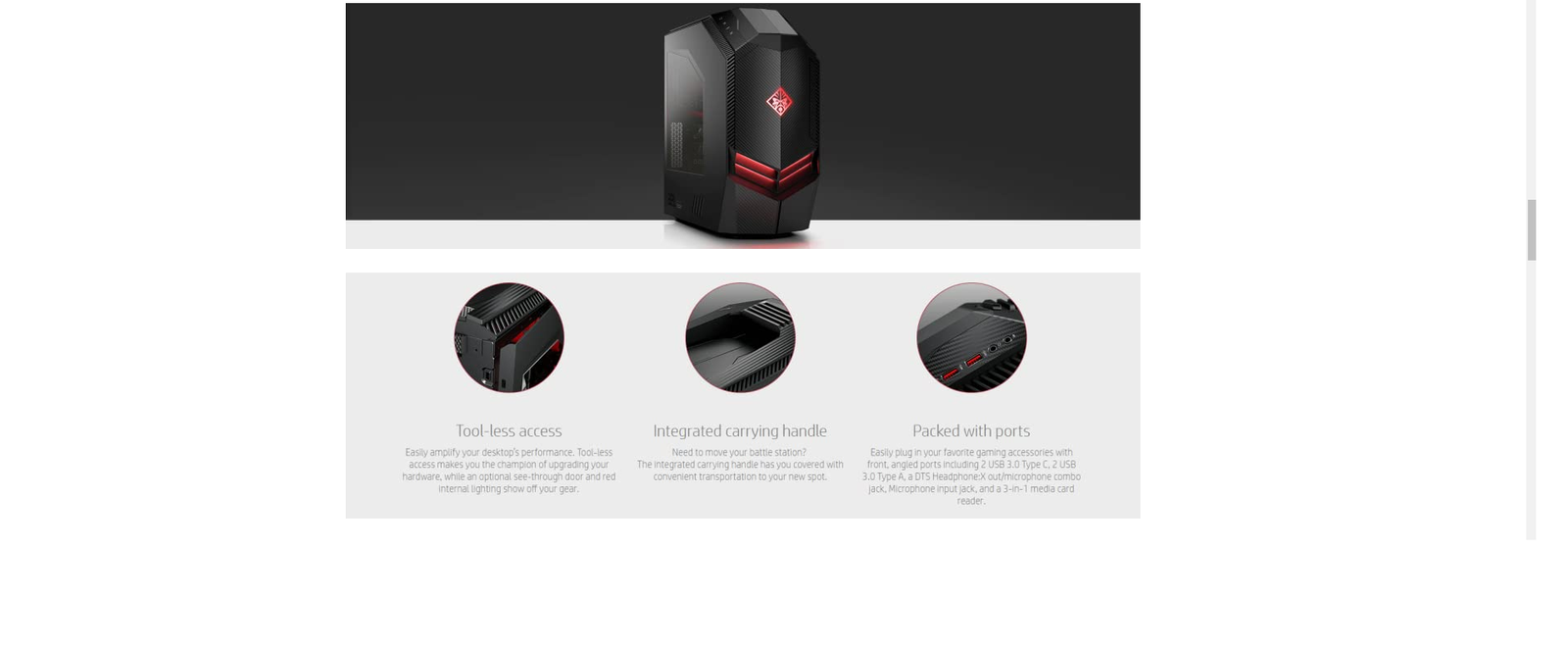 Model
Brand:HP
Series OMEN
Model 875
Part Number
2HJ85AA#ABA
Type
Gaming & Entertainment
Processor:Intel Core i7-9700K 3.60 GHz
Processor Main Features:64 bit 8-Core Processor
Memory:16 GB DDR4 2666
Storage:2 TB HDD+256SSD
Optical Drive:DVD-Writer
Graphics:NVIDIA GeForce RTX 2080 Ti 11 GB GDDR6
Power Supply:750W Platinum
Operating System:Windows 10 Home 64-bit
Special Features:Liquid cooling
Communications
LAN Speed
10/100/1000Mbps
WLAN
802.11ac Wireless LAN
Bluetooth
Bluetooth 4.2
Front Panel Ports
Front USB
2 x USB 3.0
2 x USB 3.0 Type-C
Front Audio Ports
1 x Headphone/Microphone Combo (DTS Headphone:X Enabled)
1 x Microphone
Card Reader
HP 3-in-1 Media Card Reader – Supports SD, SDHC, SDXC.
Back Panel Ports
Video Ports
1 HDMI, 3 Display Ports
Rear USB
4 x USB 3.0
2 x USB 2.0
Mouse
Mouse Type
Wired optical mouse
Keyboard
Keyboard Type
HP USB wired keyboard with volume control
Dimensions & Weight
Dimensions (H x W x D)
16.43″ x 7.56″ x 17.41″
Weight
38.80 lbs.