This is backorder item Product estimated Delivery 2-3weeks.Pre-booking  with70%  Deposit Payment

LOOK BACK AT THE DUST CLOUDS
Choose up to 10th Gen Intel® Core™ i9 processor2 with up to NVIDIA® GeForce® RTX™ 3090 graphics, you'll be playing with power.
Plus, the NVIDIA® GeForce® RTX™ 3090 offers features like real-time ray tracing for cutting-edge hyper-realistic graphics
IntelUp to 10th Gen Intel® Core™ i9 Processor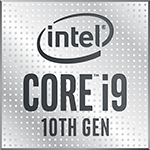 NVIDIAUp to NVIDIA® GeForce® RTX™ 3090

DESIGN
ACTUALLY, LOOKS DO MATTER
Some say looks don't matter, but let's be honest, they do. With tempered glass panels, a full-metal frame, and complete RGB control, this PC is for those who enjoy the finer things—like buying virtual hats just so you can flex on your friends.
SKILLS ONLY TAKE YOU SO FAR
Skills are half the game and with the OMEN 25L or 30L Desktop, you really can't make any excuses for losing.

IT'S YOURS, DO WHATEVER
TOOLLESS ACCESS
With toolless access, this machine is easy to upgrade and with customization and optimization features, you really can do whatever you want.4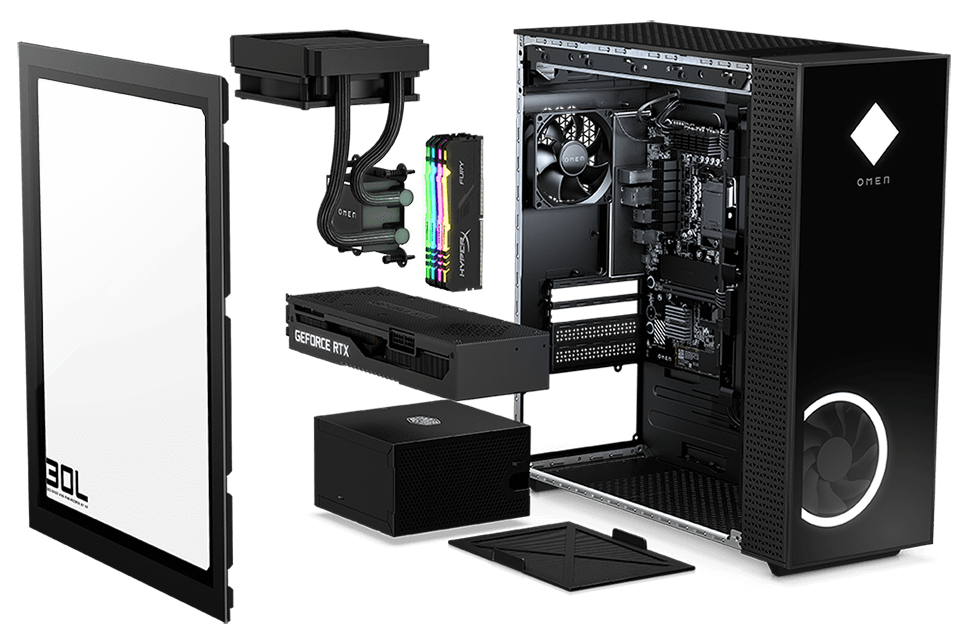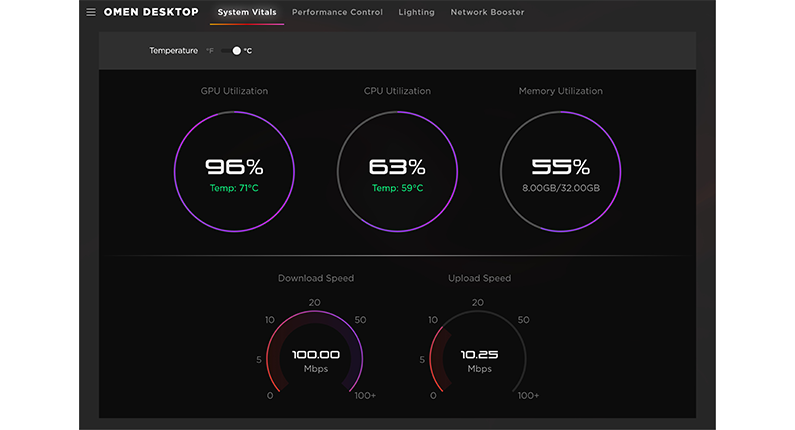 Technical Specifications
Processor
HP OMEN 25L GT12-1167 GAMING Core™ i7-11700F 2.5GHz 1TB – 512GB 32GB BT WiFi NVIDIA® RTX 3060 12288MB BLACK Keyboard Mouse
CPU speed: 2.5 GHz base frequency,
TECHNICAL
SPECIFICATIONS
Memory
HyperX® 16 GB DDR4-3200 XMP SDRAM memory (2x8 GB) (expandable to 32 GB unbuffered with 16 GB DIMMs)
Memory slots
2 DIMM (288-pin) (occupied)
Storage
512 GB PCIe® NVMe™ M.2 Solid State Drive
1 TB 7200RPM SATA hard drive
500 W Bronze efficiency power supply
Realtek Wi-Fi 5 (2×2) and Bluetooth® 5 Combo, MU-MIMO supported7, 8
USB Black Wired keyboard and mouse combo
1 PCI-E Gen 3 x16 (occupied)
Top I/O:
2 SuperSpeed USB Type-A 5Gbps signaling rate,
Headphone/Microphone Combo,
Microphone Jack
Rear:
4 SuperSpeed USB Type-A 5Gbps signaling rate,
1 SuperSpeed USB Type-A 10Gbps signaling rate,
1 SuperSpeed USB Type-C® 10Gbps signaling rate9
OMEN Gaming Hub puts you in control of custom settings for an elite gaming experience. With just a few clicks, you can safely overclock CPU and RAM, customize chassis lighting, and optimize connectivity with Network Booster and Dual Force functionality.11
Unpackaged:
15.53 in (L) x 6.50 in (W) x 17.05 in (H) approx.
Packaged:
18.90 in (L) x 11.77 in (W) x 21.34 in (H) approx.