HE TRUSTED BRAND YOU KNOW — The quality and performance you'd expect from the brand with over 120 years of experience making quality electronics, from keyboards to PC mice, with a focus on superb design and functionality.
DYNAMIC LIGHTING FX — This illuminated RGB mouse and keyboard bundle can respond to your every click, without programming. The "island-style" keys on the keyboard feature translucent edges that let the full color of this RGB keyboard shine through.
SMOOTH, RESPONSIVE, PRECISE — A strong, corded connection and 1200 DPI mouse setting means every click is accurate and accounted for — even after 3 million clicks. The USB keyboard's N-key rollover delivers keystrokes that are whisper-quiet and error-free.
UNIVERSAL COMPATIBILITY — Use this computer keyboard mouse combo with Windows, Linux and MacOS 10. 3* and higher. No additional software or drivers needed. PC. Chromebooks. MacBook. Even some game consoles. If you got it, you can use it. Just plug, play — and get to work!
FULL-SIZE COMFORT — The ambidextrous ergonomic mouse shape feels good in hand, whether you're left-or right-handed. And the low-profile keyboard has all the keys you'd expect (hot keys, full number pad, navigation keys). Yet takes up less space than other standard keyboards.
PHILIPS Premium Wired RGB Keyboard & Mouse Bundle
You need a keyboard. You need a mouse. Why not get both at the same time? Once again, PHILIPS delivers on decades of expertise and research to bring to market a stylish, sophisticated USB keyboard and mouse bundle. Elegant design, quality build, user-friendly functionality with no additional software required. Enjoy full compatibility with Windows XP, Vista, 7, 8 and 10, as well as Linux and most game consoles — all with plug-and-play convenience.



The premium double-shot ABS keycaps ensure longevity, up to 8 million keystrokes, without letter-fade. Typing in a dimly lit room? No problem! The keys are backlit, with the light shining through the letters and the keycaps' transparent edges. The light up mouse also features illuminating "ambiglow" FX that work automatically, changing colors in response to your every move and every click. This chromatic effect breathes new life into your workspace, keeping things as dynamic and interesting as you are.
Perfect for Work, Perfect for Play — Perfect for You
With the user-friendly features of this corded keyboard and mouse, gaming and work are equally enjoyable. Lock the WINDOWS key with a single keystroke to prevent accidental keypresses from activating the WINDOWS menu. LED indicators let you know what mode you're in, e.g., whether the WINDOWS key is locked or the CAPSLOCK key is engaged. And with 6-key rollover and anti-ghosting, every keystroke will register with total accuracy, even if you hit multiple keys at once.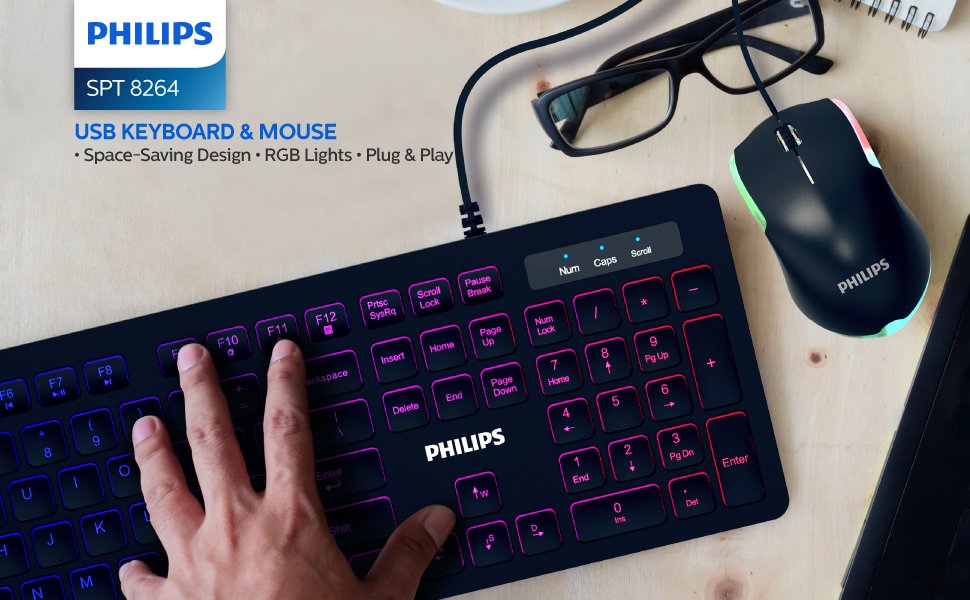 The 3-button PC mouse is designed with a curved sweat- and scratch-resistant surface, complete with a slight downslope that delivers an ergonomic handling for less stress on your wrist. Work hard so you can play hard? Then you're in luck, because the mouse can survive intense usage, maintain optimal performance even after 3 million clicks. And its smaller, compact size is perfect when you're on the go. Just toss this portable mouse in your bag and hit the road.
Universal Plug-and-Play Compatibility
PHILIPS made sure to create the perfect led keyboard and mouse that looks great, performs even better and is ever-ready with a spill-resistant build. And with a wide compatibility list, use the SPT8264 with just about any PC that runs Windows XP or newer. Most gaming consoles will automatically recognize the board, making it a great text-input solution for anyone looking for a Nintendo Switch, Xbox One keyboard or portable keyboard for PS4. Looking for computer accessories to enhance your workflow and level-up your gaming? Look no further than the SPT8264 light-up PC keyboard and mouse bundle from PHILIPS.